For nearly two decades, Evan Rutchik has been regarded as an advertising industry innovator. Often leaning toward disruptive approaches, Rutchik is no stranger to taking a risk — and reaping the rewards! This marketer considers himself fortunate to have established his career in advertising at a time when digital is dominant. In turn, Rutchik has had the opportunity to establish, firsthand, what works in an age of marketing that relies heavily on web-based interaction.
Education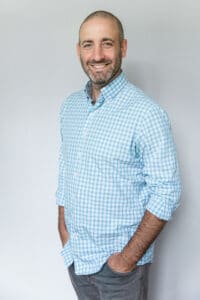 Dual Bachelor of Science degrees in Management & Advertising — Syracuse University
Master of Business Administration in Finance, Marketing, & Entrepreneurship — NYU
Evan Rutchik is proud to have earned a dual Bachelor of Science degree in Management and Advertising from Syracuse University. He earned his advertising degree at the S.I. Newhouse School Of Public Communications at Syracuse and his management degree from the Whitman School of Management. As an undergraduate, Rutchik established the foundation for his leadership as an advertising professional at a pivotal and transitional period in marketing. In an effort to expand his expertise, Rutchik also pursued and obtained his Master of Business Administration from NYU's Leonard N. Stern School of Business. His MBA combines the disciplines of Finance, Marketing and Entrepreneurship. Today, Rutchik turns to this unique combination as a source of inspiration in his professional endeavors which are largely influenced by his own brand of thought leadership.
Professional Experience
Evan is currently CEO of LocalFactor. LocalFactor develops customized advertising programs that leverage our scalable LocalFactorID data and premium localized media – targeting ads across CTV, Tablet, Mobile, and Desktop. Successfully combining the power of both data and delivery to create localized audiences that maximize the impact of your media. LocalFactor was created to provide SMBs greater access to scalable and premium Connected TV and OTT inventory in any location to any audience, and to provide Enterprise brands insights into their top performing locations to uncover where their brand is most receptive and performing strongest, saving money and informing strategic investment decisions. Local is an undervalued factor that drives ROI.
Yieldbot
Senior Vice President (2012 — 2016)
As Senior Vice President of Yieldbot, Evan Rutchik led a team of 25 salespeople to produce $60mm total revenue in 2016. Through careful consideration of skills and experience, Rutchik hired and assembled a team of top sales talent for the benefit of Yieldbot. Top clients of Yieldbot during his command as Senior VP included Amgen, Heineken, Coca Cola, Pepsi, Volvo, Honda, Lowes, AT&T and more.